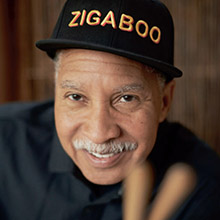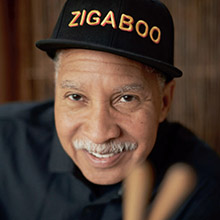 Joseph "Zigaboo" Modeliste is a master drummer, rhythm innovator and New Orleans legend. The most highly-acclaimed drummer ever to hail from the Crescent City, Ziggy's creativity has been a wellspring of funk influence for over five decades, inspiring many hip-hop tracks. His innovative work as a member of the internationally acclaimed R&B group, The Meters, as well as his side work with artists like Keith Richards, Robert Palmer and Dr. John, have garnered him an unparalleled level of respect among fans and musicians. The respect of industry peers remains strong in 2018, as the Recording Academy has honored Modeliste and The Meters with a Lifetime Achievement Grammy Award.

Zigaboo consistently displays his unique style of drumming grooves and concepts, incorporating those elements into the original music he continues to create. While performing as the drummer and vocalist in several bands, Ziggy's music continually demonstrates his artistic brilliance.
The original LP's by The Meters were all recorded with Zigaboo at the drums. His work has been sampled many times over by artists such as Musiq Soulchild, Queen Latifah, Run DMC, NWA, Ice Cube, Salt N' Pepa, Cypress Hill, EPMD, Public Enemy, A Tribe Called Quest, Beastie Boys, Naughty by Nature, and Eminem. Modeliste is a BMI award winner for the Young Gunz track, "Can't Stop Won't Stop." His drum sound also provided the main loops for Amerie's "1Thing," which was nominated for two Grammys and reached No. 1 on the R&B charts.
Zigaboo has written over 300 songs, both individually and collectively with The Meters. His songwriting displays both his musical genius and original funk style. Ziggy's songs have been released on ove 70 albums nationally and internationally. His tunes have also graced such movies as "Two Can Play That Game," "Jackie Brown," "Drum Line," "8 Mile," "Hancock," "Red," and a Nike Commercial for Footaction. Modeliste was featured in producer Mark Ronson's 2011 "Re:Generation Music Project," where he wrote and performed the original song, "A La Modeliste," with Erykah Badu, Mos Def, Trombone Shorty, and members of The Dap Kings.
Zigaboo's first solo CD, Zigaboo.com, was released in 2000 and was reviewed as one of the most outstanding comeback records of the year. The 2004 follow-up CD, I'm on the Right Track, featured special guests, Dr. John and Bernie Worrell. Funk Me Hard Live is an EP collection of funk originals recorded in 1980 and released in 2009. Ziggy's 2011 release New Life," was praised as an amazing slice of funk — proof that Modeliste's fountain of rhythmic imagination shows no signs of running dry. All these ever-grooving solo albums were released on Zigaboo's own label, JZM Records and are available for download from iTunes and on CD at Zigaboo.com and CDBaby.com.
In 2013, Drum Channel and Zigaboo Modeliste released a DVD,  "The Originator of New Orleans Funky Drumming" — a history/biography of Zigaboo's New Orleans-style drumming approach and technique. Ziggy was honored with the cover story in the August, 2013, edition of Modern Drummer. He was also featured as he held down the groove at Bonnaroo 2013 in the star-studded "Rock and Soul Dance Party," singing his song, "Hey Pocky A-Way," available on YouTube.
In 2014, Modeliste's drum work was sampled in Eminem's single, "Berserk" — a Billboard No. 1 BMI Award winner. That same year, Zigaboo and The Meters were showcased in Dave Grohl's and HBO's docuseries, "Sonic Highways."
In 2016, The Meters famed "Handclapping" was the featured song in Google Pixel Nightmoves.
Modeliste is honored to be named in the top 20 of Rolling Stone Magazine's "100 Greatest Drummers of All Times." He has also been immortalized in songs, such as "Ziggowatt," by Lettuce and "Zigaboogaloo," by Nicholas Payton.